By Kristen Pecci
Upgrades to LEDs can yield huge energy savings and can usually be installed without disrupting facility operations.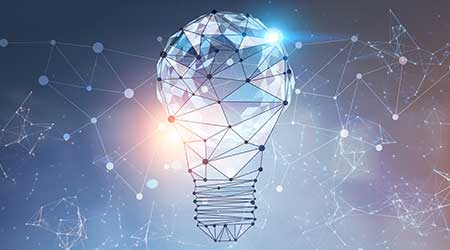 One of the challenges facility managers face is finding ways to successfully implement energy efficient strategies within a fully operational occupied building. With any initiative, the pros and cons of the long term benefits and potential cost savings must be weighed against the overall impact to the occupants' experience. If construction and renovations negatively affect end users, these long term energy savings may not be enough to offset the resulting logistical and financial risks.
Often the systems that can make the greatest long term sustainability impact may also be the ones that will cause the greatest immediate disturbance to the operations of an existing building. The key to developing and executing successful energy efficiency initiatives within existing facilities is targeting the right systems at the right times. Compared to other building system upgrade options, lighting and lighting controls are generally more easily replaced or transitioned with minimal disruption or impact to the occupants' operations and experience.
Benefits of upgrades
Upgrading lighting and lighting controls can reduce the energy use of the facility, but it also provides a high visibility commitment to the overall occupant experience. A successful energy efficient lighting upgrade can also help highlight the facility's dedication to green initiatives and be utilized as a larger promotional tool. Lighting upgrades can alter the look and feel of a space, serve to improve functionality, and increase overall positive reaction to a space — all while reducing the energy used and decreasing utility and maintenance costs.
So how is this possible? A building that is still utilizing older, traditional lighting, such as incandescent, fluorescent, or HID (high intensity discharge, e.g., metal halide or high pressure sodium fixtures) lighting, can achieve significant energy savings by upgrading to LED fixtures. The exact reduction in wattage will vary depending on the type of fixtures in question. As a general rule, LEDs typically use 50 percent less energy than traditional solutions — with significantly more energy savings of about 75 percent when replacing older T12s or incandescents with new high efficiency low wattage LEDs. In addition to this reduction in energy use, LED fixtures have a much longer lifespan, with the latest equipment achieving 50,000 to 100,000 hours of operation. This is a significant increase from the approximately 10,000-hour lifespan seen with traditional fluorescents lamps.
LEDs emit light in a specific direction, which eliminates the need for reflectors to capture and redirect wasted light. This delivers a more operationally efficient solution with less energy used, while reducing the potential of energy lost that is associated with overlighting. Also, LEDs emit less heat than other lighting technologies do, which in turn reduces the amount of air conditioning needed.
Compared to other building-wide infrastructure systems, it may be easier to strategically separate lighting into discreet spaces for phased upgrades. Both interior and exterior base building areas provide opportunities for relatively simple but high-impact modernizations. Addressing interior spaces such as stairwells, lobbies, and back of house mechanical or utility areas may minimize the inconvenience to building occupants while still providing substantial savings of both energy and overall operational cost.
Exterior lighting systems such as façade or parking lot lighting bring a dramatic wattage reduction. Traditional lighting fixtures in these areas are typically very powerful, with high wattages greater than 100 Watts or 150 Watts per fixture. Plus a high density of fixtures is still needed to achieve the required light levels. LEDs provide energy savings with fixtures in the 60-watt range and also simplify regular maintenance for these harder-to-access areas.
This article appeared in FM World News & Facilitate Magazine.